Chief Deputy Tony Thomason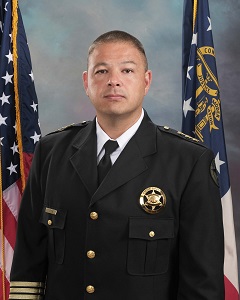 ABOUT CHIEF DEPUTY TONY THOMASON
Chief Deputy Thomason started out in Emergency Medical Services in 1990, and started in Law Enforcement in 1994. Over the years, Chief Thomason has served in the following capacities: Patrol officer, Patrol Supervisor, School Resource Officer, Narcotics Agent, Crime Suppression Unit Supervisor, Criminal Investigations Lieutenant, and SAC (Special Agent in Charge) of the Special Investigations Unit. He has been a SWAT Operator since 1996 and served as the Assistant Commander of a two-element SWAT team. He is a Georgia P.O.S.T. (Police Officer Standards and Training Council) certified instructor. He has been instructing in this capacity since 1996. He subsequently obtained specialty instructor certifications in the areas of Emergency Medical, Firearms, Defensive Tactics, Taser, and Emergency Vehicle Operations. He is also certified by Glock as an armorer.
He has attended classes hosted by the military JTF 610 Security Force Squadron in Narcotics Detection and Interdiction, Special Operations Tactics, Land Navigation, and Booby Trap Detection. He obtained additional SWAT training from Tactical Training International, Toccoa SWAT training, DSC Trident defensive tactics Meridian Mississippi, Raid Planning from Titusville Police Department in Titusville Florida, and FBI LEEDS Georgia, GBI Major Case Management, Columbus Georgia.
Tony holds a Bachelor of Arts from Saint Leo University and a Master's degree in Public Administration from Columbus State University. He is currently on staff with CSU as an adjunct instructor in their Criminal Justice Program. He has taught for Clayton Regional Police Academy, Fulton County Police Academy, Macon Police Academy, Toccoa SWAT School, and Griffin Police Department as well as other community colleges in the area. In addition to college level students, he has taught local, state, and federal officers in an array of topics from interpersonal skills to SWAT tactics. Chief Thomason acts as the lead pilot for the STAR helicopter and coordinates the SCSO's air program.