SOCIAL MEDIA AND INFORMATION

CLICK HERE TO VISIT THE LEXIS-NEXIS COMMUNITY CRIME MAP PAGE
(http://www.communitycrimemap.com)
Reduce crime and improve public safety. LexisNexis's public crime map, Community Crime Map, connects law enforcement with the community to reduce crime and improve public safety. Crime mapping helps the public get a better idea of the crime activity in their area so they can make more informed decisions about how to stay safe.
Community Crime Map goes beyond crime mapping by automatically alerting the public about recent crime activity and by improving communication between the public and law enforcement through anonymous tips. Community Crime Map empowers the public to make better decisions about crime by putting the same technology used by law enforcement to analyze and interpret crime activity into the hands of the public. (
LexisNexis, 2021
)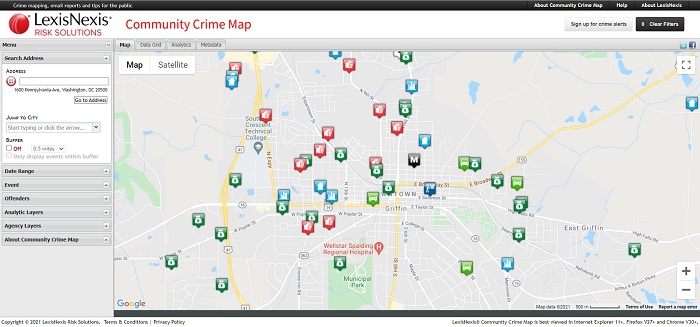 ***NOTICE***
If you click the link above you will be leaving the Spalding County Sheriff's Office's website. The Spalding County Sheriff's Office cannot control the function or content of the site you are visiting.