OFFICE OF PROFESSIONAL STANDARDS - EMPLOYMENT
THE SPALDING COUNTY SHERIFF'S OFFICE IS CURRENTLY HIRING!
DESCRIPTIONS AND APPLICATION BELOW!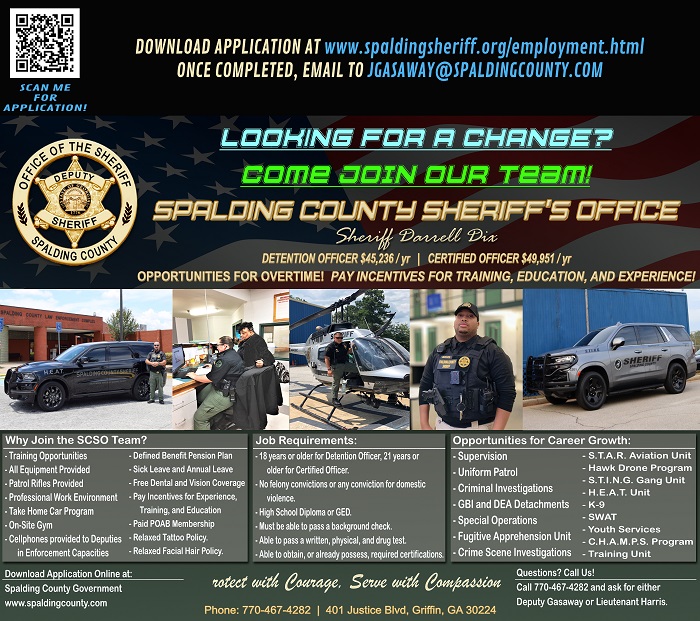 Download and fill out the application below. Once completed, please turn the application in at the Spalding County Sheriff's Office at 401 Justice Blvd, Griffin, GA 30224.
Alternatively, you can now EMAIL your completed application to Deputy Jessica Gasaway at (
jgasaway@spaldingcounty.com
).
JOB DESCRIPTIONS


(Job descriptions are subject to change. Additional job descriptions may be found on the Spalding County Government website at https://www.spaldingcounty.com/ )

DEPUTY SHERIFF I (NON-CERTIFIED DETENTION OFFICER)
(Works best with Adobe Acrobat. Click here to get Adobe Acrobat Reader)


DEPUTY SHERIFF I (NON-CERTIFIED DETENTION OFFICER) PART-TIME
(Works best with Adobe Acrobat. Click here to get Adobe Acrobat Reader)


DEPUTY SHERIFF II (CERTIFIED PEACE OFFICER)
(Works best with Adobe Acrobat. Click here to get Adobe Acrobat Reader)